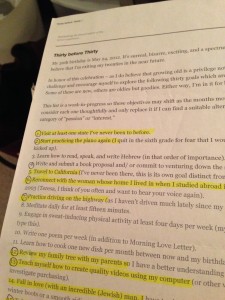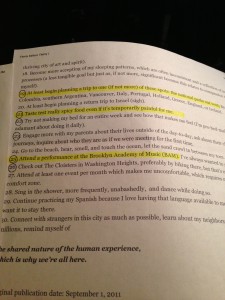 Friends, here is a story I want to share.
In the months leading up to my 30th birthday last year I made a list
"Thirty before Thirty."
The snapshots of this list are above.
As the day approached – May 24, 2012 –
I looked at the list longingly and realized how far I still had to go
before I could check off these items on this list
which I deemed to be important and indicative
of how successful I had been or could be before this milestone
celebration.
I felt, at times, disappointed by these perceived shortcomings.
Last night I was sifting through papers and found the list above,
the highlighted portions indicated efforts which I thought I actually could get around to,
those more likely to be accomplished in due time (whatever "due time" means).
To my surprise, this list has become a time capsule and an archive
and also a manifestation journal.
Without focusing intently on any of these items,
without having looked at this list in months,
I was – without knowing it – delving into many of these intended adventures.
I was – without actively knowing it – making my dreams manifest in my world.
(1) Visit at least one state I've never been to before.
This summer I am working in Louisville, Kentucky. I have never been to Kentucky before. I did not plan for this. I just put one foot in front of the other and answered the call… when the potential employer asked if we could set up a Skype interview for me to be considered for the position of co-director of a program to lead sixteen teenagers in a community service experience (for seven weeks).
(3) Learn how to read, speak, and write Hebrew (in that order of importance).
I am enrolled in a graduate school program where I am learning Hebrew intensively (although when I wrote the list graduate school was not even on my radar screen). For years now I have wanted to be trilingual, and with English and Spanish under my belt, I was hoping Hebrew would be the third leg of my linguistic tripod.
(5) Travel to California.
I am planning a trip for the fall with (see number 14) to San Francisco and Los Angeles. This will be my first trip to California (and my best friend has lived out there since October 2010).
(7) Practice driving on the highway (as I haven't driven much lately since my family migrated to the city).
I did that in March and will do that again in June in Virginia with (see number 14). I need to drive those teenagers around Louisville… in a minivan…
(14) Fall in love (with an incredible (Jewish) man), I have to clarify so the universe doesn't think I'm talking about winter boots or a smooth riding pen.
My "driving instructor" is actually my boyfriend who helped me feel comfortable at the wheel again after years of not driving, among the many things he has taught me, shown me, shared with me, and inspired with and around me. This is the man who will accompany me to Kentucky and California.
This is the man who I reconnected with as a result of my writing,
via a divine series of coincidences through Morning Love Letter,
who I started dating just two days after my
30th birthday last year.
I don't always write this candidly about my private life,
more often than not, Morning Love Letter is a compilation of anecdotes, emotions, and sensations I gather along the road of life, not always my own anecdotes, emotions, and sensations.
But in the days leading up to my 31st birthday,
after discovering this list which I never could have imagined I would be pursuing
without intending to,
I feel so strongly – perhaps more strongly than ever –
about the guidance which carries us down the path we need to go
if we trust and release and let the voice of our truth
be the confidante we listen to most.
The past year has had its major struggles,
I have cried and felt more uncomfortable than I know how to quantify,
but it also has been miraculous and astounding and awe-inspiring,
and no list can explain that to me.
I am going to tuck this list away again and hopefully rediscover it on the eve of my 32nd birthday,
perhaps by then (3) I will publish my first book.
But I don't know, I'm not attached to that,
I'm living my life off-list, and it feels
new.
You know when you think everything is stuck, and you are moving nowhere,
slow like molasses,
dull like your middle school chemistry teacher?
You're not.
That's what this love letter is for you today:
a reminder that you are going everywhere you need to go
at the speed which is right for you.
The unwrapping of the gifts of our lives –
the birthday presents which we don't even know we are receiving –
happens in a time we cannot tell
on watches we buy in boutiques or on clocks that hang on a living room wall.
Thirty before Thirty.
It has been so much more than that.
With love,
Meredith Dankner Levick
(humbly writing as, Your Higher Self)